Construction sites must be completely dry before initiating a building project. That's why many construction companies rely on dewatering — the process of removing ground or surface water — to prevent ponding.
Water-filled cofferdams help maintain dry-land environments by isolating work areas. This process allows for dewatering in construction projects and other industrial applications.
AquaDam Work Area Isolation for Dewatering Support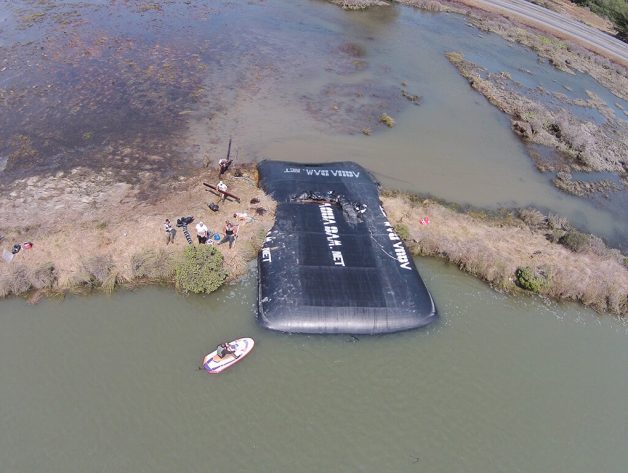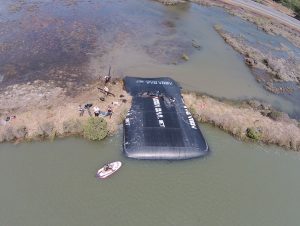 AquaDam water-filled cofferdams isolate job sites to allow for dewatering in construction. These solutions comprise a patented tube-in-sleeve structure with a vertical baffle to create a lightweight yet stable barrier. AquaDams are a cost-effective alternative to sandbags that take a fraction of the time to deploy and remove. These heavy-duty barriers remain in place, qualifying them as protective devices according to the Clean Water Act.
AquaDams comprise a flexible polypropylene and polyethylene blend. They conform well to irregular ground surfaces without water seepage except beneath the cofferdam. How much seepage occurs underneath the barrier depends on ground conditions.
AquaDams are available in lengths of up to 1,200 feet and boast patented connection collars that join two AquaDams together.
Construction Dewatering Applications
While cofferdams are ideal for construction site isolation, these solutions support dewatering in many applications:
Pond liner repair
Bridge abutment work
Canal construction and repair
Box culvert isolation
River bank revetment
Pipeline inspection, construction and repair
Bridge pier inspection and repair
Sewage treatment plants
Boat ramp construction, demolition and repair
Special projects
How AquaDams Have Aided in Construction Site Dewatering
AquaDams have been successful in many industrial projects.
Artificial Lagoon Isolation and Phase-In
AquaDams have been used nearly constantly from 2016 to the present to support the world's largest Crystal Lagoon located in Mohammed Bin Rashid Al Maktoum City, District One in Dubai. The cofferdams used for this project measured 16 feet tall, 300 feet long and 12 feet tall, 150 feet long.
AquaDams were chosen for the artificial lagoon project because they would not introduce sediment into the water or damage the expensive poly liner.
Hydropower Intake Construction and Demolition
In 2013, Sandbar Flat Dam near Sonora, California, used two 16-foot-tall, 300-foot-long AquaDams for their two-phase project. In phase one, the cofferdams isolated the bank where the new hydropower intake would be built. In phase two, the AquaDams isolated the old intake's mouth so it could be demolished, enabling Pacific Gas and Electric to minimize power production loss.
Water Intake Canal Gate Replacement
In 2012, 21-, 16- and 10-foot-tall AquaDams measuring approximately 120 feet long were installed at the mouth of the water intake canal in Lake Independence, near Truckee, California, which supplies drinking water to Reno, Nevada. With the help of the AquaDams, workers could isolate and dewater the intake canal, allowing them to replace the century-old gate structure.
Palm Desert Pond Intake Construction
AquaDams were used to isolate a corner of a holding pond in Palm Desert, California, in 2018 to allow contractors to build a new pump intake structure while the rest of the pond remained in operation. This project used a 12-foot-tall, 270-foot-long AquaDam and two support AquaDams measuring eight feet tall.
Get Dewatering Support for Construction Sites
Achieve work area isolation and support dewatering with AquaDams. The cofferdam flood barriers provide reliable water control without the weaknesses of traditional alternatives.
Contact us for a quote on an AquaDam today!