Creating a dry-land environment is the first step in a building or construction project. Water-filled Cofferdams provide reliable, cost-effective work area isolation to allow dewatering to happen for construction projects and a host of other applications.
Prepare for Dewatering With Water-filled Cofferdams From AquaDam, Inc.®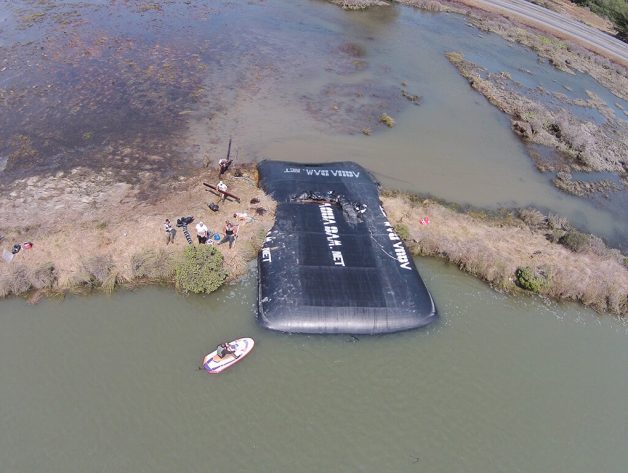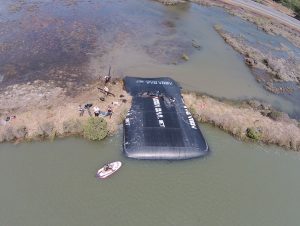 The deployment of AquaDam water-filled cofferdams results in worksite isolation for dewatering. Due to a patented tube-in-sleeve design, including a vertical stability baffle, AquaDams are lightweight, yet heavy-duty, resulting in a non-rolling barrier when filled with water, which qualify as a "protective device" under the Clean Water Act. The flexibility afforded by the materials of the AquaDam allows for excellent conformation to uneven ground surfaces. Water does not seep through the water-filled barrier, although there will be some seepage through the ground beneath the AquaDam. Seepage rates depend on ground conditions. With available lengths up to 1200ft, you can go further with a single AquaDam unit. If needed, a patented connection collar can be used to reinforce the overlap section between (2) AquaDams, allowing cofferdams of any lengths. AquaDams can be deployed and recovered in a fraction of the time required for sandbags, with none of the mess.
Examples of Cofferdams' Role in Dewatering Applications
Besides construction projects, other common cofferdam applications in worksite isolation include projects such as:
Bridge Abutment Work
Bridge Pier Inspection/Repair
Boat Ramp Construction/Demolition/Repair
Pond Liner Repair
Canal Construction/Repair
Pipeline Construction/Inspection/Repair
Sewage Treatment Plants
Box Culvert Isolation
River Bank Revetment
Real-World Dewatering Scenarios With AquaDam Cofferdams
Examples of the many dewatering methods involving the successful use of AquaDams include: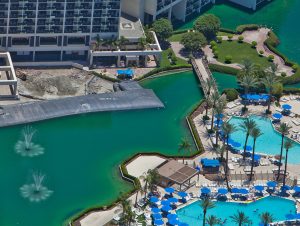 Artificial Lagoon Isolation/Phase-in: From 2016 to present, 16ft tall, 300ft long and 12ft tall, 150ft long AquaDams have been in near continuous use, supporting the installation and phase-in of the largest Crystal Lagoon in the world, at MBRAM City District One, Dubai, UAE. The AquaDam was chosen because it would not damage the very expensive poly liner, would not introduce sediment into the water, would be installed and removed quickly, and could be reused, if treated with care.
Hydropower Intake Construction/Demolition: A 2 phase project at Sandbar Flat Dam, near Sonora, CA, saw the use of (2) 16ft tall, 300ft long AquaDams in 2013. Phase 1 isolated the bank where the new intake would be constructed. Phase 2 isolated the mouth of the old intake, to allow for demolition. In this way, Pacific Gas & Electric was able to minimize power production loss.
Water Intake Canal Gate Replacement: In 2012, a 21ft tall, a 16ft tall, and a 10ft tall AquaDam, all about 120ft long, were deployed at the mouth of the water intake canal from Lake Independence, near Truckee, CA. This lake supplies the drinking water for Reno, Nevada. With the use of the AquaDams, the intake canal was isolated, dewatered, and the 100-year-old intake gate structure was replaced.
Palm Desert Pond Intake Construction: In 2018, a 12ft tall, 270ft long AquaDam was deployed, along with (2) 8ft tall support AquaDams, to isolate a corner of a holding pond in Palm Desert, California. Once isolated, the contractor was able to construct a new pump intake structure while keeping the rest of the pond in operation during construction.
Contact AquaDam online or call 800-682-9283 to learn more or receive a quote about AquaDam work area isolation for dewatering support!