A flood can provoke devastating consequences for any commercial establishment. Flood waters can cause extensive property damage, resulting in the need for costly renovation. Downtime during and after a flood poses the risk of financial loss for a business.
When appropriately combined with other water control measures, water-filled flood barriers can control rising flood waters. AquaDam® provides a solution to industrial flood control needs.
AquaDams Offer Reliable Flood Control for a Business
AquaDams are portable, water-filled barriers that can be installed in conjunction with other flood-control methods wherever rising flood waters pose a threat to a business establishment. They consist of a virgin-resin high-grade polyethylene and polypropylene material that is lightweight, yet heavy-duty.
Water-filled barriers are less expensive than sandbags. They're also faster to install — an important consideration when flooding is imminent — and won't leave a mess on the property after removal.
How to Use AquaDams for Commercial Flood Control Applications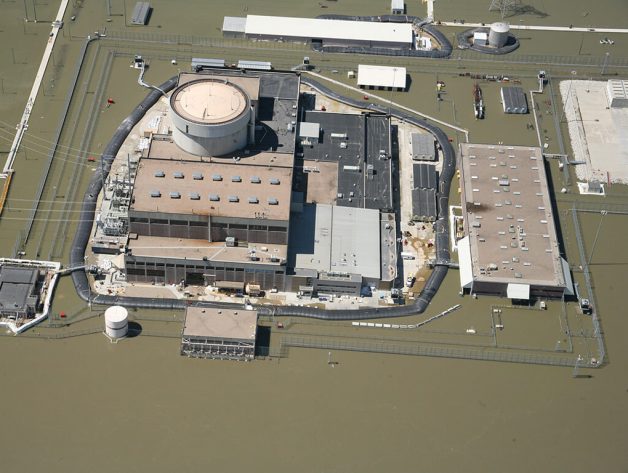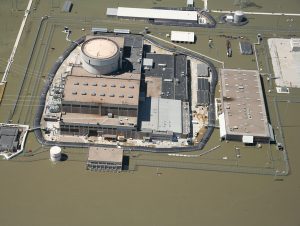 When a flood threat occurs, workers transport the rolled up AquaDams to the site and set up the pumps that will deliver the water from nearby groundwater, or even the floodwater itself, to fill the barriers. The pumps are then connected to the hoses protruding from the (2) fill tubes of the AquaDam. The dam is unrolled around the protected area before filling begins. As it is filled, the two inner tubes grow in height, constrained within the outer sleeve of the dam. The dam is full when it reaches its design height at the lowest point along its path.
Flood control AquaDams must start at an elevation greater than the elevation to be achieved by the main body of the AquaDam. The far end of the AquaDam must end at an elevation greater than the flood water level to be controlled. Most commercial properties are relatively flat, which usually calls for a full perimeter flood barrier. This can be done by connecting one AquaDam to itself, after it has been unrolled around the area to be protected.
AquaDams Come in Various Sizes to Account for Numerous Business Flood Control Needs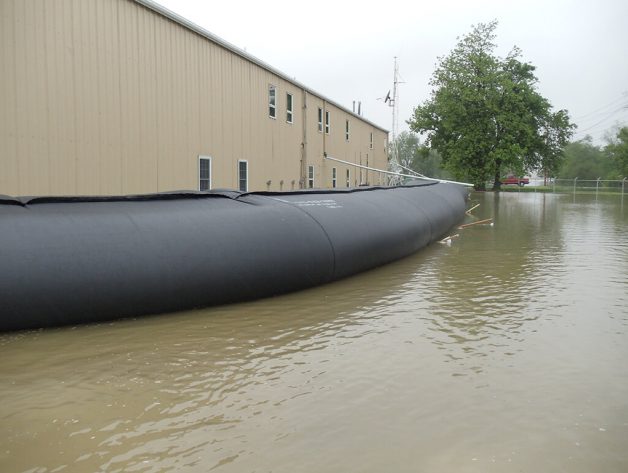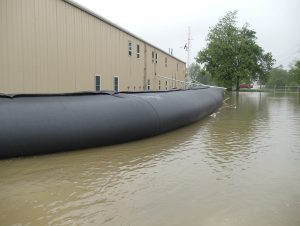 AquaDams come in a wide variety of sizes to meet the flood protection requirements of nearly any commercial property. AquaDams are rated to control about 2/3rds of their height in flood water depth, at the lowest point along the path of the AquaDam.
Available heights range from 1 to 16 feet (after inflation), while the standard lengths are between 50 and 500ft, in 50ft increments. The barriers can be manufactured to customized lengths upon request. Patented connection collars can connect multiple units to create a protective barrier of nearly any length.
The flexibility offered by an AquaDam also allows businesses to create an array of configurations to conform to their property. The AquaDam can be installed in a straight line, or turns can be made — even to the point of completing encircling the protected area.
Fort Calhoun Nuclear Power Station Flood Control: 8ft and 6ft tall AquaDams were deployed around critical infrastructure at the Fort Calhoun Nuclear Power Station, Blair, NE, in 2011. Approximately 5000ft of 8ft tall AquaDams were installed in a 2-3 day period, protecting the station from the flooding Missouri River.
United Marine Barge Line: 600ft of 5ft tall AquaDams were deployed around this warehouse in Metropolis, IL, in 2011. This warehouse contained very expensive equipment which could not be evacuated. The AquaDam, along with other active/passive flood control measures, helped keep the warehouse and equipment dry.
Contact AquaDam online or call 800-682-9283 to receive a quote or to learn more about commercial flood control solutions.